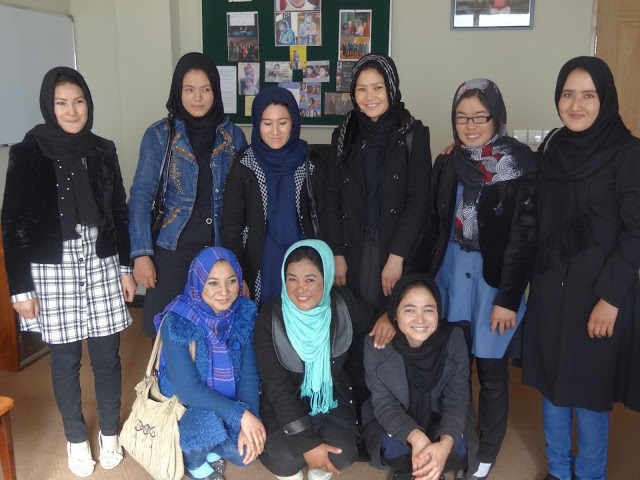 Our scholarship programme is a growing success. We are supporting now 9 girls at the University
One of the future pillars of Arghosha Committee's educational strategy will be a growing commitment to University scholarships. We started last year by supporting two girls, Fawzia and Amina, who came respectively from Zarin and Chardeh High schools in Bamiyan province and are now in their second year of Law, and we added this year a further 7 scholarships, bringing the total to 9.
All the girls are attending Gawharshad Institute of Higher Education, who was founded in 2010 by Sima Samar, founding member of Shuhada Organisation and chairperson of the Afghan National Commission for Human Rights. Our idea was to give a better future to bright girls who passed the Kankoor, the national University exam, but were not admitted to State Universities, mainly Kabul University, and needed financial support to get into a private institution.  All the girls we are supporting come from the Schools we have funded namely Chardeh, Zarin, Dar e Ali and Sar e Sarab. Two of them, Homa and Fatima, took the bold step to study engineering and got the support of the Kronauer family, who is funding two scholarhips in memory of their beloved Federica Kronauer. Two of them, Zahra and Tahira, are supported by the Duncan family.
Zahra has completed its studies at Chardeh high school (built in 2008/9 with Arghosha's Committee funding). She is 19 and studying Law. Her father, Mohammed, is a nurse in a basic clinic in Chardeh (district of Yakawlang) and can hardly support his big family. Zara, who scored very well at her 12 grade exams, was feeling helpless and losing hope in having access to higher education.
Zahra's dream is to become one day a member of the Afghan Parliament as she feels that having both power and legitimacy she could serve better the aspirations of her country.
Tahira comes from  Dar e Ali (district of Yakawlang) where she attended the high school funded by Arghosha Committee in 2012. Her father, Ewaz Ali, is a farmer in a pretty remote and poor village in the area. She is one of a family of 8. Her father did a lot of sacrifices to support her studies and now that she has got good marks for the University, the whole family is keen to support her in higher education.
 Tahira has decided to study Law and wants to become one day a top lawyer.
Masooma is the daughter of Chaman and comes from the remote village of Sar e Sarab in the district of Waras, where Arghosha Committee has funded a new building last year. She is 20 and has scored very high marks both in the 12 grade exams and the University entry test for the faculty of Economics.
She belongs to a family of 8. Her father is a small shop keeper in the local bazaar and his income is hardly feeding the family.
Masooma always liked economics. She dreams to become an economist for the Afghan government and help the development of her country.
Tamana is the daughter of Qadir and is also original from Sar e Sarab. She is 20 and belongs to a family of 10. Qadir is a farmer in a remote village of the area and struggles to keep his family going.
Tamana says that she always wanted to understand how an economy works from a family environment up to the whole society at large. She has therefore decided to choose the faculty of Economics in order to be able to serve her own people and help to boost the economy of the poor Bamiyan province.
Homa Shad is the daughter of Mahrab and comes from the area of Chardeh, where Arghosha Committee funded the construction of the local school in 2008/9. She is happy that she could study from grade 8 to 12 in the new building that gave her better conditions than in the old mud structure. She is 18 and belongs to a family of 9. She got high marks at the 12 grade exams. Her family is very keen in education and one brother made it to Kabul state university while other two study at Bamiyan State University. Her family could not support her studies at a private university and she is grateful for our support. She is studying Engineering and thinks that a woman engineer can work side by side with men engineers.
Basbigom is the daughter of Zafar, a farmer, and comes from the village of Dar e Ali, in Yakawlang district. She is 19 and belongs to a family of 10.
She always wanted to become a Court Judge since the beginning of her secondary studies. She is now very excited that she can fulfil her dreams by attending the Faculty of Law. She wants to study very hard to become among the best judges in the country. She thinks that there are too few female judges in Afghanistan and if she succeeds in her dream it will be a great things not only for herself but for her country.
Basbigom wants in particular to serve her people in Bamiyan where women need particular support.
Fatima is the daughter of Ghulam Ali. She is 18 and is original of Zarin, in Yakawlang district, where Arghosha Committeee funded a school in 2011. She studied from grade 9 to 12 in the new building which heloed her learning condition. She belongs to a family of 9 and lost her mum when she was 8 years old. Her father, sadly, passed away early this year. She is blessed though to have an elder brother who took charge of the family and is keen to support her education at a higher level.
With a track record of good scores at school and a very destitute background Fatima is the ideal candidate for Arghosha's Scholarships.
She chose to study Engineering because she thinks that Bamiyan province is in urgent need of infrastructure and she wants to play a role in its development. She thinks that there is room for a woman engineer as there is much need of engineers for the country's
reconstruction