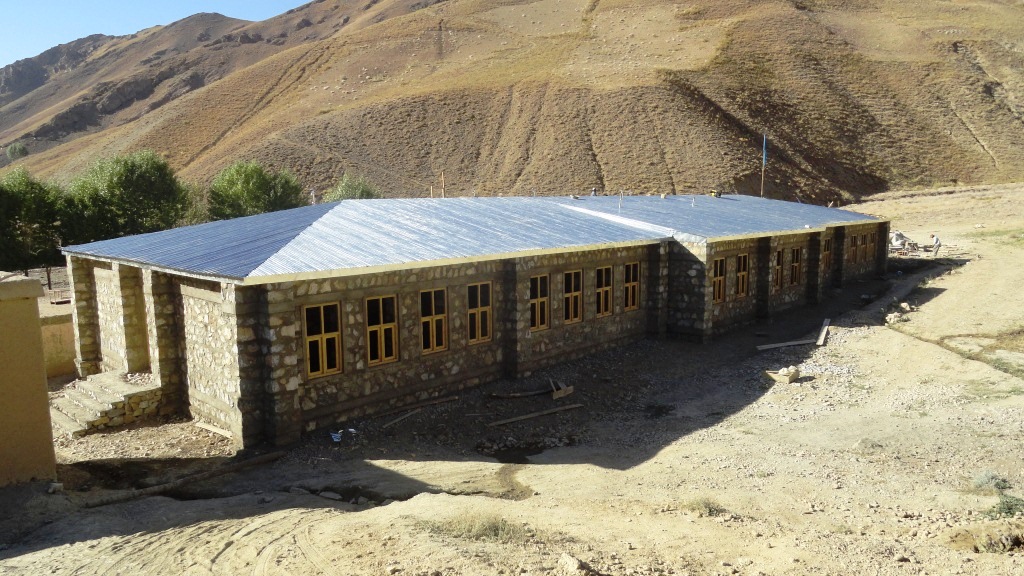 Meyankawak School has reached the roof!
The eleventh school funded by Arghosha Faraway Schools is on its way to completion. The roof is almost finished and the interior decoration has started. By the end of the month the building should be ready for the handover to the Afghan authorities. We are very proud of this extraordinary achievement.
We are proud and thrilled by this result. It is a pretty big school first of all, hosting over 500 pupils, between boys and girls. Secondly it is a very remote school, the most remote that we have ever funded so far, as it lies over 230km from Bamyan town, a pretty long distance that has to be covered travelling along unpaved roads for many hours. It was pretty an endeavour to build it on budget and on time and we have to thank once more Shuhada Organisation for this achievement.
The school serves a community of about 5,000 people in the Panjaw district, which is one of the poorest of Bamiyan province and therefore of the whole country. The local population lives on agriculture and animal husbandry, mainly sheep. A very tough life indeed. Local people are very keen on education though and have been very cooperative by donating the land where the school has been built. A generous donor made also possible to link the school to a water spring which lies on his land.
The present well which is used by the pupils gives very salty and undrinkable water. Now a water pipe 700m long funded by Arghosha will bring the water to the school. Thanks to the donor the quality of life to boys and girls will improve remarkably. These kids have to walk up to 4hours a day to commute to school and it is important that once they arrive at destination they get to a comfortable place where they can enjoy staying and studying.
The school lies in a pretty green area with nice old trees and some lawns. During the summer the pupils can enjoy the shadow of the trees. From what we can gather, representatives of the Department of Education came for an inspection recently and were satisfied by the quality of the construction materials employed.