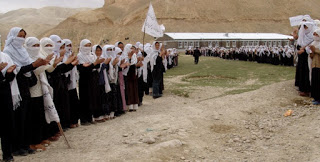 Inauguration of Chardeh Girls' School
In spite of the global economic crisis and Afghanistan's unstable situation, our work continues. On 18 May 2008 we inaugurated a new school in Chardeh, a village in Yakawlang district, Bamyan province.
This is the fifth school built with our financial support. The eight classrooms will allow a majority of 600 enrolled girls to receive full-time education until secondary school. This replaces the previous set-up, where lessons were taken in turn in a worn-out building and often in tents.News of the event spread widely.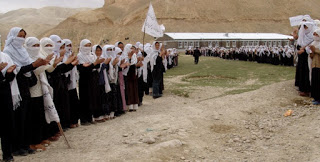 The Governor of Bamyan province, Mrs Habiba Sorabi, (here on the right) was present at the inauguration, along with the local authorities and media.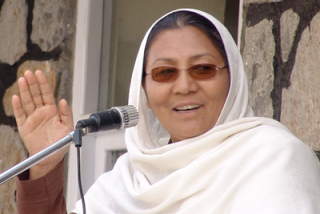 We were grateful for the positive appreciation, marks of encouragement and statements of support expressed by all. They made us even more confident that the work funded through our projects is credible and useful.
Meanwhile, on 17 May we had met the twenty girls enrolled in the ICT and English course. We were very pleased by the outcome of this innovative project, which Shuhada OrganisationOu implements most effectively.The results were impressive: the girls attending the course, all very bright and curious, spoke to us in English and showed great ease when using the computers.
When Marco and Maria returned to London they received this e-mail from one of the girls:
Hi
I am Narges,
I am student in English and computer course.
I want to have friend like you. 
I hope be happy.
Bye Bye
A very encouraging result, which prompted us to inaugurate a direct e-mail correspondence with the girls. We also decided to renew the funding of the project so that it can run for another year.