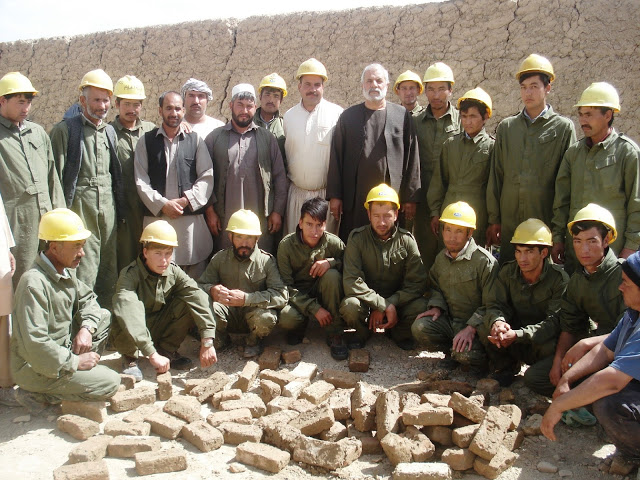 A successful cooperation with Turquoise Mountain in vocational training
Vocational training should be part of an exhaustive educational programme in a developing country such as Afghanistan. A bottom up approach is important in order to have, together with young graduates, a properly skilled labour force that could encourage small entrepreneurial activities and improve the welfare of workers. In order to be successful, the quality of training is key. For this reason, Arghosha Committee has joined forces with Turquoise Mountain (www.turquoisemountain.org) the charity founded by Rory Stewart with the patronage of the Prince of Wales, whose mission is to enhance craftsmanship skills in the country using traditional methods in areas such as construction, carpentry, pottery, jewellery and calligraphy.
We decided to conduct a pilot experiment in Bamiyan in two main areas of skills: masonry and carpentry (traditional and wood carving). Bamiyan has one of the most splendid heritages in the world. The Buddhas were (sadly) a testament to monumental sculpture, as antique towns such as Gholghola (now partially restored by Unesco with Italian funds) were architectural marvels. The turistic potential of the region is huge, and it is important that local people get the necessary skills to improve their ability in the upper end of the labour market. In the last 10 years Bamyan has built 4 new hotels, a University, a hospital, an airport and dozens of residential and government buildings.
The working programme lasted 2 months, from 23 July to 22 September 2015, but started in mid May with various assessments and visits on the ground. Turquoise Mountain was assisted by Shuhada Organisation, our partner charity in Afghanistan, who gave invaluable support in finding the premises and identifying the trainees.
The programme involved 20 people: 18 males and 2 women. Ten men improved their skills in masonry, 8 in carpentry while the 2 women learned wood carving. The masonry programme taught environmentally sustainable techniques with  local materials. There were 10 unskilled apprentices who learned skills such as masonry, brick masonry, wall plastering, the traditional way with a mix of straw and mud. They also learned how to do a traditional ventilation system for bathrooms in order to comply with health requirements. T|hey learned roof covering with timber and were introduced to some basic plumbing.
All the trainees received a basic stipend and a toolkit that they took with them at the end of the courses. Masonry was the other important area of training. In Bamyan province the quality of carpentry is very rudimentary. Desks are very basics as are windows and doors.
The carpentry course focussed on tools, measurement, simple drawing, joinery and frame making. Apprentices were also trained on how to make doors, windows and tables. All of them had a workshop on basic safety rules.
Wood carving was taken by two women who learned the Nuristani and Kabuli classic carving. Our partners told us that they produced excellent examples of fine craftsmanship including Nuristani chests and small carved panels.
One of the two female trainees was particularly skilled as she had received vocational training in calligraphy. Both of them were very happy in learning the new skills. In general all the apprentices (ranging from 18 to 52 years of age) were happy with their training and the majority believed that earth construction is a good technique as it is cheap, easy to maintain and good to heat the interior for longer periods. This is paramount in an area like Bamyan where temperatures go down well below zero during 4 months of the year.
All the apprentices were original of Bamiyan province: 14 from Bamiyan centre, two from the district of Mullam Gholam and three respectively from Zargaran, Yakawlang and Saighan districts. Over two thirds of them had moved to a different province or country between 1974 and 2014 with the majority going to Iran from where they have come back. They left the course with a tool kit and a certificate which will improve their chances of getting a new work. By the way, 16 of the apprentices are literate. (primary and secondary school).
Before joining the course, half of the apprentices had worked as unskilled labourers. Three quarter of them (15) worked as daily workers, while four where self employed working on their land. The trainees were confident that after the completion of their courses their wages would more than double in average from 250 Afghani (4 US $) a day to 500-700 Afghani (8-11 US $). This is particularly good news given the fact that this year the construction sector has slowed down and a growing number of skilled labourers has come to the market making it more difficult to find a proper job for the less skilled ones. We think that this training has proven very helpful. We hope that with the support of our friends of Shuhada and Turquoise Mountain we can repeat this programme and explore new avenues in order to improve the skills and the living standards of those living in Bamiyan province. The start has been very promising!