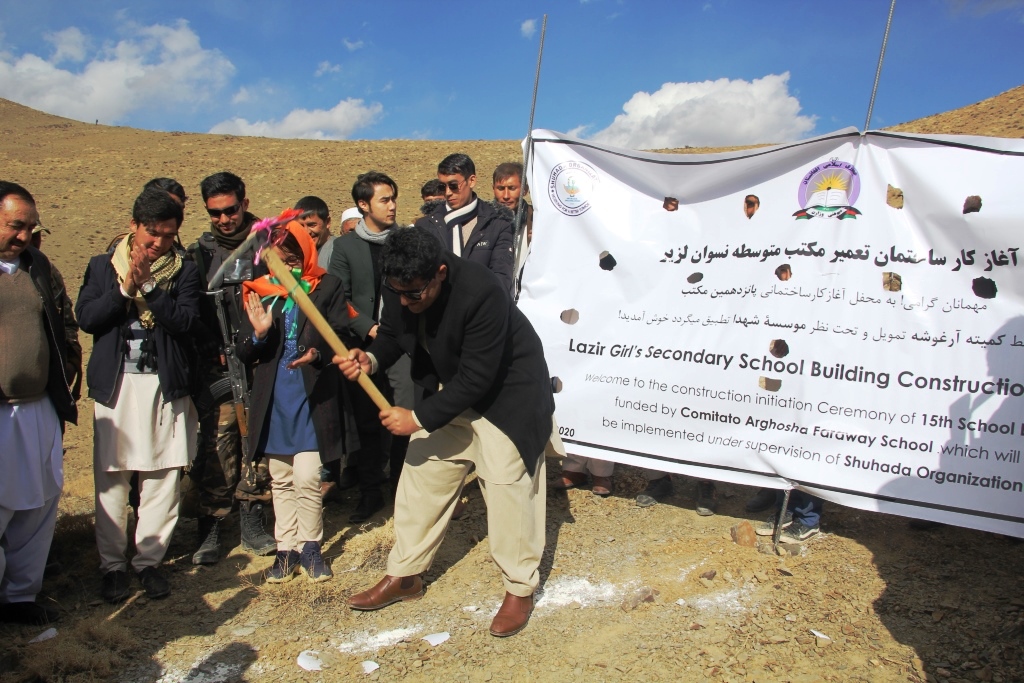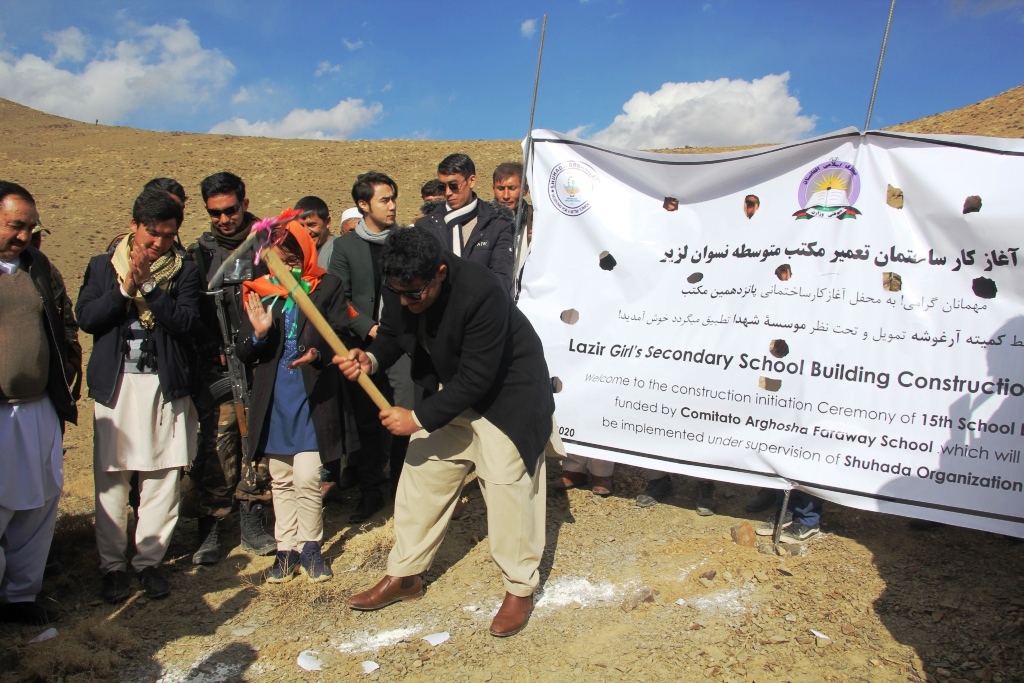 Lazir, our 15th school, is on the starting blocks
December 4, 2020, will go down as a memorable day for Arghosha Faraway Schools. It will record our 15th year of commitment to Afghan educational projects. Our 15th year of activity was in fact celebrated with the symbolic inauguration of our 15th school building of Lazir, not very far from Nili, capital of Daikundi province. The opening ceremony was attended by a cheerful gathering at the presence of the provincial authorities led by Mohammad Zia Hamdard, governor of Daikundi province, civil and religious authorities and representatives of Shuhada Organisation, the Afghan charity which is supervising the implementation of the project.
Lazir School will be a girls, school hosting 578 pupils from grade 1 to 9 in a brand new building erected with local stones and masonry. It will have 8 classrooms and 4 administrative rooms for teaching and a set of 5 latrines. Until now the girls were taking their lessons sitting on the ground, in most uncomfortable conditions. As winter is approaching the works will start in May 2021 and if everything is going as scheduled the school should be completed by the end of November.
Lazir school is the second school construction that Comitato Arghosha funds in Daikundi province. Daikundi is one of the poorest provinces of Afghanistan with very few educational structures. The province is highly populated and fertile, with growing cultivations of fruit trees. We made our first move in the province in 2019 funding the construction of Largar school (see previous post) hosting 500 pupils, mainly girls. Then, this year we made a second move providing 60 school desks to Nekleej Koshak school.
Nekleej Khoshak school is situated in Ashtarlay district of Daikundi province. It is a mixed school hosting 880 students from grade 1 to 12. The gender is split almost by half with 462 boys and 418 girls. We are very happy about our commitment in Daikundi and particularly impressed by the dynamism of the local representative of Shuhada Organisation, Ms Gholjan Samar who has worked very hard in the last 3 years to brig change to this poor region. For the first time two girls coming from Daikundi, namely Largar school, were enrolled in our University scholarship programme at Gawharshad University in Kabul. We look forward for more to come!
Between Largar, Nekleej Khshak and now Lazir our commitment in Daikundi province has benefited so far almost 2000 children including 1500 girls. Arghosha's Committee main commitment is on women empowerment and our focus is in supporting all educational initiatives focussed on girls education.