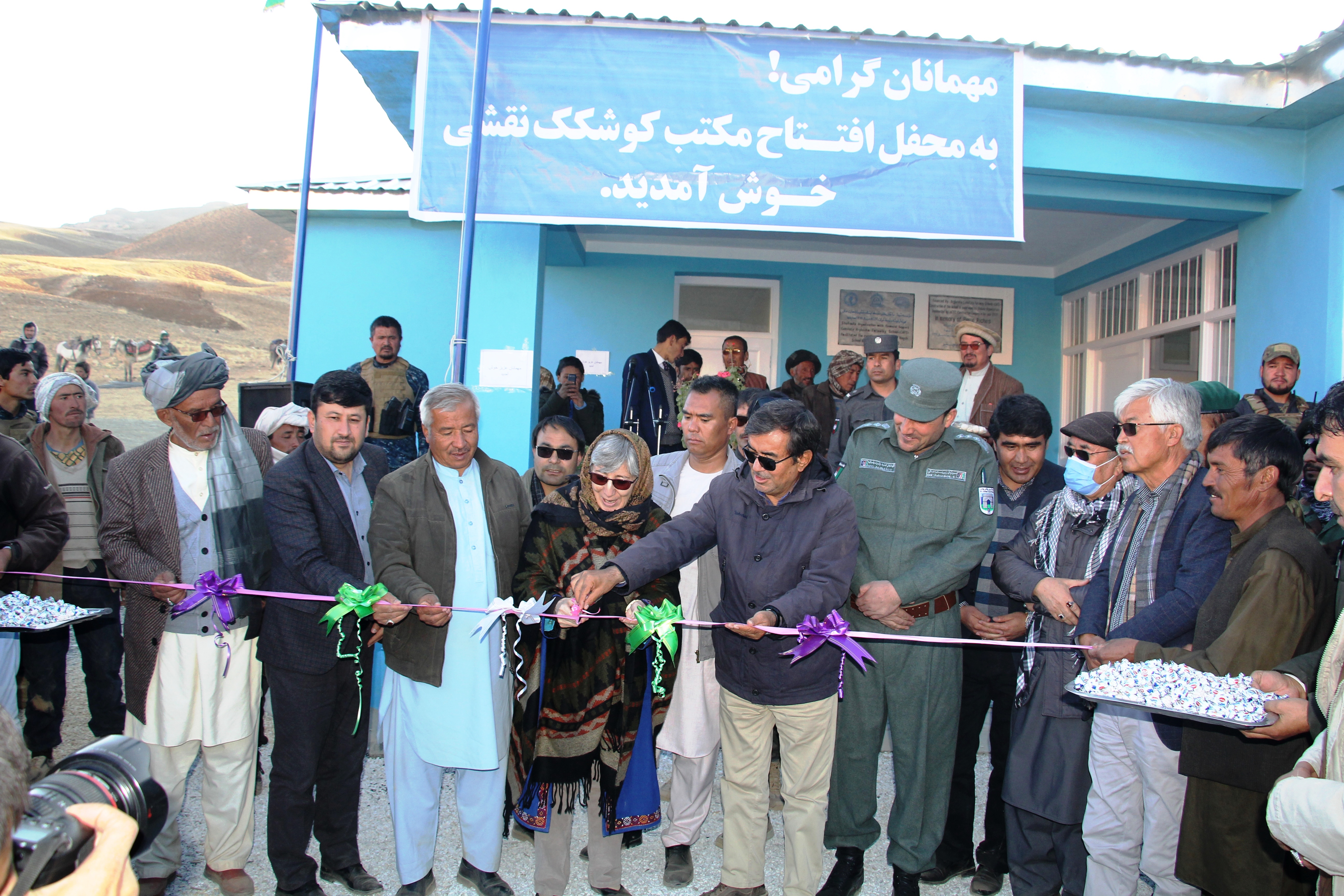 Koshkak Naqshi secondary school has been inaugurated
It has been one of the most cheerful school inaugurations in recent years and we regretted a lot for not being capable to attend. But restrictions caused worldwide by the Covid pandemic made our trip to Afghanistan virtually impossible. Our joy was nonetheless undiminished when we saw the pictures that were coming from Koshkak Naqshi school. That Saturday October 31, a mild and sunny autumn day, will remain memorable to all of us of the Committee. We were honoured with those in attendance first of all. Sima Samar, minister for Human Rights and founder of Shuhada Organisation and Gawharshad University, two institutions we have been working for years with, came from Kabul on purpose to be present at the ceremony. She was joined by the Governor of Bamiyan province, Sayed Ala Rahmaty (former Governor of Daikundi) and Mohammed Azim Faid, Governor of Yakawlang district who brought wit them many authorities of the region.
The joy of that day could be measured by the ordinary people attending. They came in the hundreds from neighbouring villages to mark the importance of that day. There were village elders and local farmers and shepherds but what striked us most was that many of them were women. They were keen to be there in person bringing their young children to attend a special occasion and to show their support to education. To add a colourful note to the coreography there were a couple of dozens of horsemen who rode around the compound for the joy of the children. In that region there is an old tradition of riding going back to the times of the Mongolian hordes. The famous game of Bozkashi is still played from time to time among those high plateau connecting central Afghanistan with the northern planes.
It was in fact many years that the local villagers were waiting for a permanent school building. To see their dream come true gave them a huge sense of relief that was palpable that day. The colour of the building reflects some new specifications of the Dpertment of education. We love it. It looks like a flap of that blue sky of the high plateaus fell on Earth to enlight the path of the children towards vertue and knowledge. Overall the colour reflects the colour of Arghosha that takes its inspiration from the colour of the nearby lakes of Band e Amir, some 50km from the school.
The building was built in burnt brick, another specification of the Education department. It brings more flexibilty to the materials employed for the construction making maintainance and painting easier. We were pleasantly surprisec by the increasing quality of the materials employed. Blackboards are made with good slate stone and school desks made with poplar wood are top quality as one can see from these pictures. The carpentry work has also incredibly improved.
Koshkak Naqshi is the 14th school building that we have funded. It has 6 classrooms and 3 rooms dedicated to administration purposes. It shelters 300 boys and girls from grade 7 to grade 12 in roughly equal proportion. We look forward to seeing some of the young girls getting their last year diploma from Koshkak Naqshi to get a University scholarship very soon!